The Brewers of Nye Hill Farm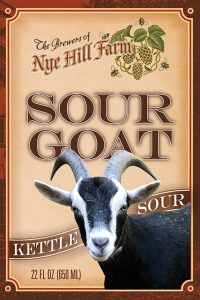 Sour beers are a relatively new addition to the craft beer scene but Tappist Monks have been brewing them for centuries. Worth, then, looking at their lives. The Mepkin Abbey in South Carolina practices a code of "prayer, work, seclusion, poverty and chastity". That sounds a bit austere, plus they don't brew beer. Spencer Abbey in Massachusetts does brew beer, and they stress a more simplistic "pray and work" ethic. More to our liking. Hence "Sour Goat". Certified organic blueberries, strawberries and raspberries. Lactobacillus for a touch of culture. Culture, yeah, that's us.
Long, cold winters. Mud seasons that put the best all-wheel drives to the test. And then… the black flies. Welcome to Cheshire County New Hampshire. Where folks care about the land, putting much of it into conservation. Where neighbors help each other out, from shoveling a driveway to lambing a ewe. Where farms are still part of the community. We wouldn't live, or brew, anywhere else.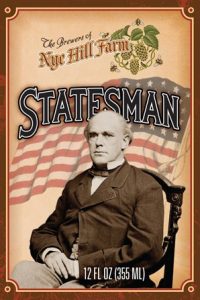 Oh sure, he was to become the Governor of Ohio, United States Senator, President Abraham Lincoln's Secretary of the Treasury serving in Lincoln's cabinet during the Civil War, and Chief Justice of The Supreme Court of the United States. But before all that, Salmon P. Chase taught school here in Cheshire County, at Schoolhouse No. 3, the foundation of which still stands at Nye Hill Farm, a stone's throw from our brewery. So here's to teachers, farmers, brewers and statesmen. A good foundation.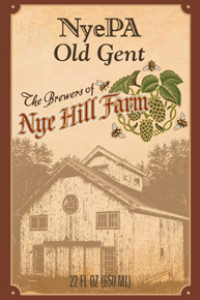 Old Gent - Our Debut Nye PA
For the first in our series of NyePA's, The Brewers of Nye Hill Farm chose six varieties of hops. While we love the bitterness of a hopped up Pale Ale, we wanted a beer everyone could enjoy, something not overly bitter. By adding hops late in the boil, we've brewed just that, an easy to drink pale ale. A beer for you, for your Old Gent, and for anyone else whose company you keep.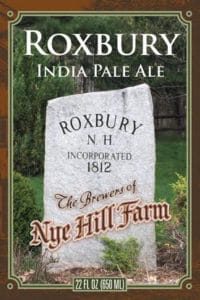 Roxbury, Cheshire County. Home to Nye Hill Farm. Home to Schoolhouse #3, where Salmon P. Chase briefly taught in 1823 before moving on to become the Secretary of the Treasury and later the Chief Justice of the Supreme Court of the United States. Home to the Babbidge, Otter Brook, Woodward Pond and Stone Dams. Roxbury, "A Good Dam Town". This Double IPA celebrates its history, spirit and sense of community.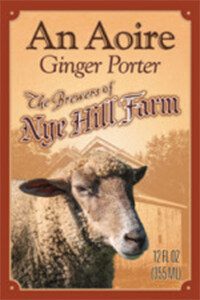 An Aoire - Our Ginger Porter
The Irish poet Flann O'Brien lauded porter, then known as plain, writing, "A pint of plain is your only man." A few hundred years later the craft beer scene rescued "plain" from near obscurity, but today there's little plain about it. Brewers are adding pumpkin, honey, vanilla, plum, and chocolate. At Nye Hill, we've added ginger and we think on a cold, damp Irish night, O'Brien would approve.
Maple Homestead - Our Dark Mild Ale
Maple Homestead Farm, Marlborough, Cheshire County. One hundred acres of sugarbush. A sugarhouse built in the 1800's. Wood fired evaporator, hand fed. Sugaring in a manner little different than that of Native Americans centuries ago. A tradition to be honored, on a farm honoring it. This hand-crafted beer honors both, the tradition and the farm, using pure maple syrup from Maple Homestead.
Percheron - Our Maple Coffee Porter
Percheron. Draft horses known for their strong work ethic. Originally bred as war horses, today they are commonly found pulling carriages, or in logging, or, like here at Nye Hill, on farms. Using pure maple syrup from Marlborough's Maple Homestead Farm and cold brewed coffee from Keene's Prime Roast, we brewed this Maple Coffee Porter to honor the work ethic of the small farms and businesses of Cheshire County.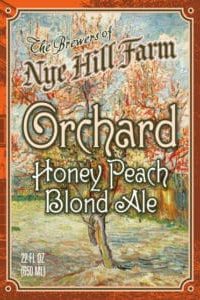 Orchard - Our Honey Peach Blond Ale
In Asia, where the peach originated, the tree's wood was believed to ward off evil spirits and the peach itself was considered the fruit of happiness. In Europe, the likes of Caravaggio, Gauguin, Cezzane, Manet, and van Gogh painted peaches in their still lifes. Here in New Hampshire, at Nye Hill, we've put them in our beer. Certified organic peaches, a honey malt adds a hint of, well, honey. Summer on the farm.
Favreau - Our Farmhouse Ale
Favreau. French diminutive from the Latin word Faber, meaning Blacksmith, a highly skilled artisan who forges objects from wrought iron or steel. With a slight hint of smokiness, this Bière de Garde celebrates the spirit of the blacksmith. The addition of apples celebrates the spirit of the farm. Our Nye Hill Farm "house ale," celebrating the spirit of life forged in lasting friendship.
Also available in our Dry Hopped version for those who enjoy a slightly hoppier flavor.